About the Company
PTS (Pierides TechnoSystems SA) was formed by Panos Pierides in 1996 with the principal aim to provide innovation, quality and technical support to the Broadcast Video Industry in Greece & Cyprus.  
PTS is based in Metamorfosi, in Northern Athens, which is conveniently close to most of the major Broadcasters and Production/Post-Production houses. At Metamorfosi are located the sales office, technical workshop and warehouse.  Metamorfosi is also well situated with regard to Athens International Airport (Eleftherios Venizelos).
Through 25 years development, PTS has broadened its activities by establishing strong partnership with many important international Equipment providers, whilst Telecom Operators are now part of our client list. 
But it was the ambition of PTS management to break away from the traditional role of "international distributor" from the beginning. PTS management believes that all-important is the provision of integrated Systems, implemented following the best technological practices and international standards, fulfilling client's needs for innovation and integration. 
Good communication as well as trust and personal responsibility with the customer and in-depth knowledge of the market are important to offer effective system solutions. 
PTS ensures that the client has the best solution consistent with his requirements, both present and future.
PTS has carried out a number of installations, both large and small, for many TV Broadcasters, Production and Post-Production Companies, as well as a number of Transportable Cellular Base Stations for most local Telecom Operators. 
PTS is proud for its participation as a selected provider, supporting important events for Greece the last years.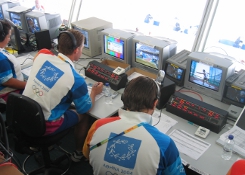 In Olympic and Paralympics Games "Athens 2004", PTS played a major support role. In co-operation with RIEDEL Communications, provided the installation and operation of wired communication systems, for the games and test events.
In "Athens 2005 - Eurovision Song Contest", which was hosted in Athens, PTS in co-operation with Vizrt, provided the installation and support of the scoring system.
More recently PTS was selected to deliver and operate the communications systems (wireless & Wired Comms) for Open and Close ceremonies of Summer Special Olympics "Athens 2011" hosted at Panathinaikon Stadium 
PTS customer base includes all major Broadcasters, Production/Post-Production companies and Telecommunications service providers in Greece, plus an increasing number of customers in the Republic of Cyprus.
Our clients recognise us, as a proven, trusted and experienced partner, who has the flexibility and willingness to explore and innovate for new solutions.
PTS offers a wide choice of equipment, intergraded solutions & services, ranging from Broadcast Systems, Outside Broadcast Vehicles and Special Telecom Vehicles.
Streaming & Multi-screen Solutions
Digital Video Broadcasting (DVB) solutions
SD, HD or 3D Broadcasting equipment and solutions
Production Studios & Post Production Facilities
Master Control Rooms
ENG & SNG MW LINKS, Earth Stations & Mobiles
Outside Broadcast Van Turnkey solutions  for ENG, EFP, SNG
Airbone Broadcast Video Systems
Electronic News Room Systems
Video server Networks & playout systems
Media Asset Management & Digital Archiving
Communication Talkback Systems 
Optical Fibre Video Systems
Transportable Cellular Base Stations